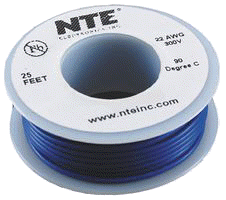 LITZ-AWG22
7 m stranded wire in colur of choice (black, white, red, blue, gray, orange, yellow, green, brown, purple); especially for the usage with cable constructions with Crimp socket connectors
CRIBUCHS12
(to connect to large scale decoders with pin connectors MX695LV, MX695LS)
cross section 0.32 mm2 Note: this and similar cable material also available in special retailer's store.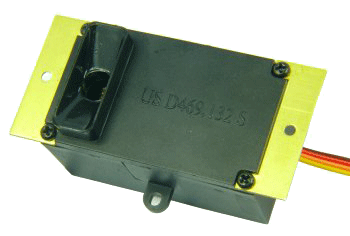 TR92-101
OLD
The large scale smoke generator is equipped with 4 outputs:
supply voltage fan: max. 6 Volt
maximum voltage on heating element: max. 12 Volt,
can be generated by PWM from track voltage (configuration via CV # 137, 138, 139)
Dimensions: l = 49 mm (without metal brackets made from brass), w = 29 mm, h = 33 mm,
tank volume: 4 ml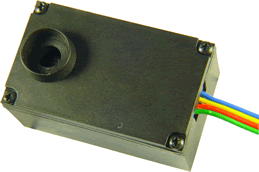 TR92-101
NEW (since September 2015)
Smoke generator or large scale decodersMX695, '696, '697, '699, and others:
Dimensions: 50 x 30 x 30 mm (new version optically defferenciable: no metal brackets; tank: 4ml
connection wires:
blue (fan +, max. 5-6 V, to connecto to the fan output of the decoder),
yellow (fan - on decoder ground),
red (heating element +, on decoder + track voltage or low voltage),
green (heating element on FO1 ... FO8).
ATTENTION: This construction is a ZIMO special, i.e. there my be smoke generators on the market that look exactly the same, but contain different heating voltages.
The current ZIMO version of the TR92-101 contains a 15 Ohm heating element (a wire wound resistor), which has a maximum voltage load of 15V. With CVs #137-#139 (smoke intensity for standstill, cruising, full speed) a characteristic for the corresponding function output (FO1-FO8) is designed, and at the same time - IMPORTANT - the maximum voltage of the smoke generator has to be adjusted, whereby the highest value generates the corresponding proportion.
EXAMPLE: Heating element + connected to track voltage 24V: CVs #137, #138, #139 = 50, 75, 110: The heating element is made for a maximum voltage of about 15V, therefore, the voltage has to be limited correspondingly by PWM. This results in CV #139 (highest intensity at acceleration) being 110 = 255/ (24/10), for the other CVs (standstill/cruising)correspondingly low values (about 40% nad 60%, what can be adjusted individually).
EXAMPLE: Heating element + connected to 18V (track voltage or low voltage adjusted to 18-19V): CVs #137, #138, #139 = 65, 95, 140. In contrast to the example above, the values are adjusted higher (about 25%), because the voltage is lower (18V is about 25% lower than 24V) and therefore has to be reduced less.